I purchased this after coming back from overseas where everyone uses bidets. I got so used to it I knew I definitely wanted one. However, no long after I installed did I started noticing the panic buy of toilet paper and hence this purchase went from a good buy to a great buy. I love this thing so much already, can't imagine going back to just toilet paper.
This toilet bidet attachment (posterior/feminine wash) offers a refreshing stream of clean water providing a thorough cleansing for men & women
Constructed with high-pressure valves with metal/ceramic cores & steel hoses instead of plastic for long lasting durability
Toilet Bidet Attachment | Bidet Toilet Seat Non Electric
Fits all sized toilets | Adjustable water pressure
FREE FAST DELIVERY ACROSS SINGAPORE FOR ALL ORDERS $75+ OR MORE - (Save $25)
3 DAY DECEMBER SUPER SALE … Don't Miss Out
With a sleek design and high-quality parts, our bidet attachment will give your bathroom a next-level look. Save money (and trees!) on toilet paper. Cleaning with our bidet is gentle on your skin and sustainable for the planet.
SPECIFICATIONS
INSTALLATION VIDEO

DUE TO CURRENT DEMAND
PLEASE ALLOW 5 - 7 DAYS DELIVERY
Easy DIY installation – no plumber required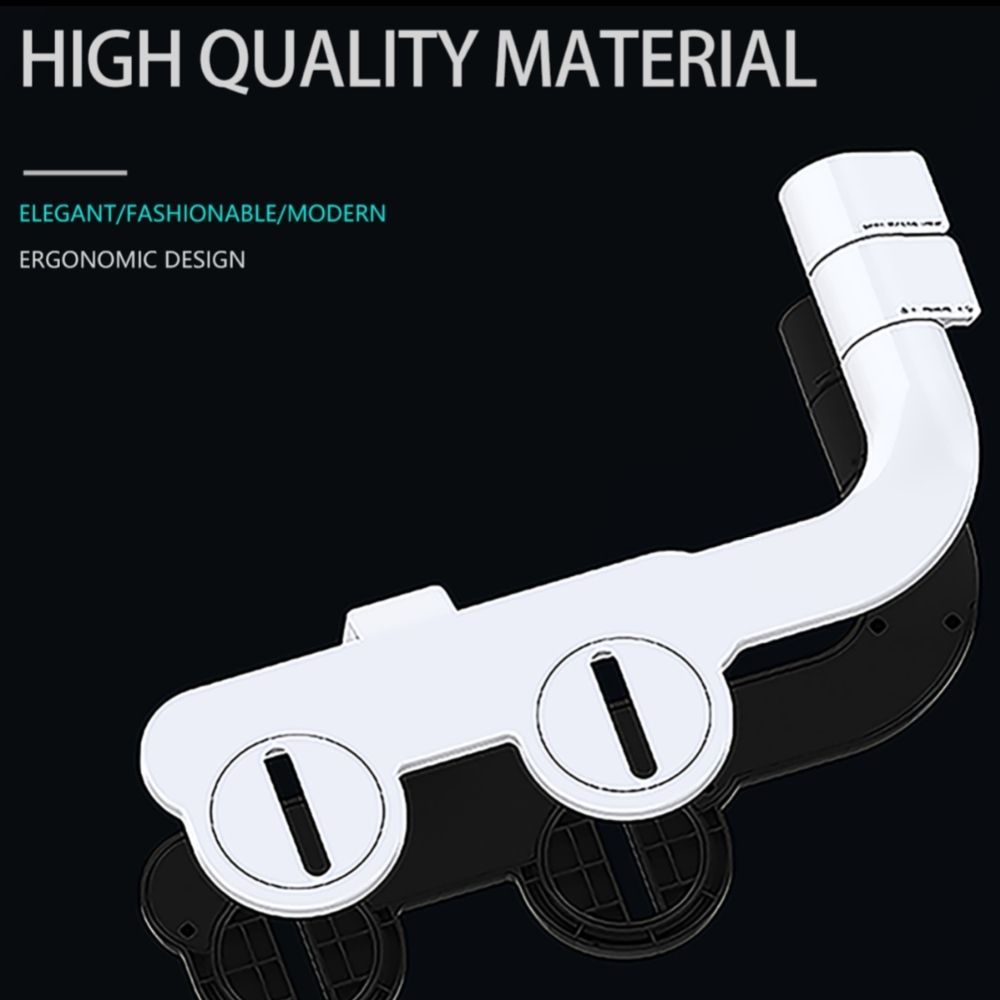 Healthier option for everyone – This bidet's dual-nozzle offers a refreshing stream of clean water providing thorough cleansing for men and women. Bidets are gentler and more hygienic than toilet paper.
SELF-CLEANING FUNCTION
Self cleaning bidet toilet seat attachment. When the rotation controller rotates to the right, it is the posterior mode, while the rotation to the left is the self-cleaning mode. The self-cleaning mode can clean the nozzle, keep the nozzle clean and reduce the pollution of the nozzle.
ULTRA-Slim Bidet IMPROVED VERSION
After continuous improvement and optimization, there is finally a designed a slim bidet attachment with a thickness of 0.19 inches, which is 60% thinner than the traditional bidet 0.47 inches. And the edge of the bidet attachment is improved so that it fits the toilet completely and can be integrated with the toilet. Most two-piece standard toilets are compatible, so there is no need to worry about mismatches.
ADJUSTABLE WATER PRESSURE
The Ultra-slim bidet rotation controller will adjust the water pressure according to the rotation angle of the controller, and the larger the angle of rotation, the larger the water pressure. When it starts to rotate 15-20 degrees, the nozzle will start to water, and the water pressure will be the largest when it is rotated to 90 degrees.
NOZZLE PROTECTION DESIGN
The upper part of the bidet nozzle has a concave downward design., which makes the nozzle have a proper gap with the toilet pedestal ring. It can prevent the nozzle from being broken by the toilet pedestal ring due to external force when using the toilet.
HIGH QUALITY COMPONENTS
The bidet is made of environmentally friendly ABS material. Attached accessories are brass T-shaped adapter and braided steel cold water hose. The overall quality of the bidet toilet seat attachment is optimized, and traditional plastic is replaced, which improves the durability and cost-effectiveness of the bidet for toilet.
Happy Health
Flush haemorrhoids, anal fissures and painful urinary tract infections down the drain.
Happy Planet
Toilet paper alone accounts for 15% of deforestation. And that's just the trees. Switching to a bidet might be a great step in reducing your ecological footprint.
Happy Wallet
The average person spends $150+ on toilet paper each year. Your investment in a bidet pays itself back in just a few months.
Frequently Asked Questions
Which payment methods are accepted?
We currently only accept credit card payments, PayPal & Crypto currency. More payment methods will be added in the future.
What currency are the prices displayed in?
All of our prices are displayed in $ SGD.
What are your delivery options and how long will it take?
SINGAPORE: delivery, 5-7 days
Other countries: Free delivery, 5-7 days
OUR DELIVERY PARTNERS


Do I get a receipt for my order?
You will be sent a receipt for your order by email after payment is made. You will also receive a confirmation email with a tracking number once your item has been shipped.
Do you have a shop location?
We are a "online insect screen supplier", with no physical shop or premises. In this way, we are able to pass our considerable savings directly to you.
How do I know if my order has been shipped?
Once your order is shipped, it will be marked as complete in our database and you will receive a confirmation email with a tracking number.
I haven't received my order yet! Is it lost?
If you have any concerns with your order, please contact our support team by email and they will be glad to assist you. Most emails are answered within 1 business day.
Support Team: [email protected]
What is a Toilet Bidet Attachment?
A Toilet Bidet Attachment is a device that can be installed on a standard toilet to provide a cleansing stream of water for personal hygiene after using the toilet.
What are the benefits of using a Toilet Bidet Attachment?
Using a Toilet Bidet Attachment offers advantages such as improved cleanliness, enhanced personal hygiene, reduced toilet paper usage, and a more comfortable and refreshing experience.
How does a Bidet Toilet Seat Non Electric differ from a Toilet Bidet Attachment?
A Bidet Toilet Seat Non Electric refers to a complete replacement toilet seat that incorporates bidet functionality without the need for electrical power. It typically offers additional features like adjustable water pressure and temperature.
What are the advantages of using a Bidet Toilet Seat Non Electric?
Using a Bidet Toilet Seat Non Electric provides benefits such as a luxurious bidet experience without the need for electrical wiring or power outlets, adjustable water settings for personal comfort, and enhanced cleaning capabilities.
What is a Toilet Seat Bidet?
A Toilet Seat Bidet is another term used to describe a bidet functionality integrated into a toilet seat. It offers the convenience of having bidet features without the need for a separate fixture.
Can a Toilet Bidet Attachment be installed on any toilet?
Yes, most Toilet Bidet Attachments are designed to be compatible with standard toilets and can be easily installed without the need for professional plumbing services.
Are Bidet Toilet Seat Non Electric models easy to use?
Yes, Bidet Toilet Seat Non Electric models are designed with user-friendly controls, intuitive operation, and often include a user manual to guide you through the settings and functions.
Can a Toilet Seat Bidet provide adjustable water temperature?
Yes, some Toilet Seat Bidet models offer adjustable water temperature settings, allowing you to customize the temperature to your preference for a comfortable cleansing experience.
Do Toilet Bidet Attachments require electricity?
No, Toilet Bidet Attachments are non-electric and do not require electricity to operate. They are typically powered by water pressure alone.
Are Bidet Toilet Seat Non Electric models suitable for everyone?
Yes, Bidet Toilet Seat Non Electric models are suitable for most individuals. However, it's important to consider personal preferences, mobility, and any specific requirements when choosing a bidet seat model.